A chief servant and a carrier of one of the symbols of authority, Roland Ekhoe Ogbebor has been suspended by The Oba of Benin, Oba Ewuare II, who also banned him from entering the Palace.
The decision by the Benin Traditional Council to ban Roland Ogbebor comes as the Economic and Financial Crimes Commission and the police open investigations on petitions written against Roland Ogbebor.
There have allegedly been series of complaints and public petitions against Roland Ekhoe Ogbebor over land-grabbing in Edo State.
Frank Irbaor, the Benin Traditional Council Secretary, released a statement, stating Ogbebor's suspension by the Palace is to allow uninhindered investigations by the EFCC and the police.
Irabor added in the statement released Wednesday, September 22, that Ogbebor was discharged from the Palace in November, 2018.
The Press Release reads: "This is to inform the general public that recently, the Economic and Financial Crimes Commission, EFCC and the Police opened investigations on Roland Ekhoe Ogbebor, former Odionwere Omuada who was discharged in November, 2018.
"In order to allow uninhindered investigations by the EFCC and the Police, His Royal Majesty, Omo N'oba N'edo Uku Akpolokpolo, Oba Ewuare II, Oba of Benin has directed the immediate suspension of Roland Ekhoe Ogbebor from the Palace."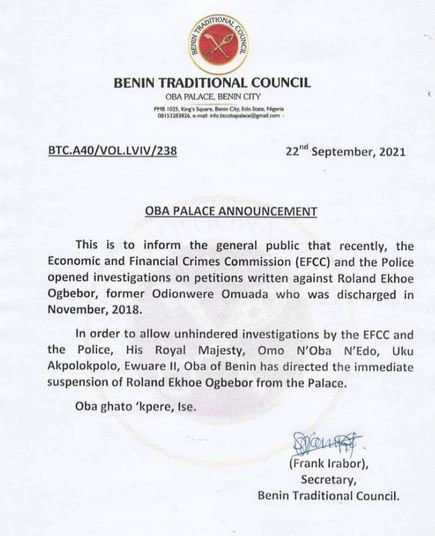 click https://bit.ly/3ihxAkl and download the waffitv app to get daily update of trending News and happenings around and watch thousands of free movies on all genres on the go